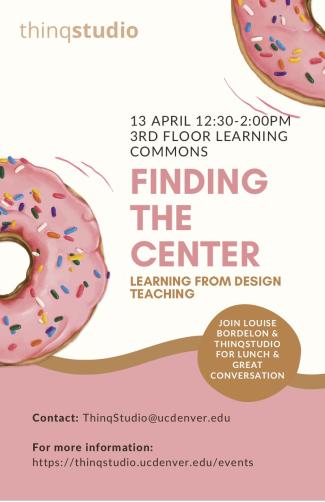 Finding the Center by Learning from Design Teaching
When we investigate teaching improvement methods, pedagogical methods that promise classroom transformation and engaged learners send us in circles. Active learning, un-grading, interdisciplinary groupwork, peer to peer review, and self-assessment to name a few.
The design fields already practice many of these as core principles in studio and lab learning environments—the norm rather than the outlier.
Although creative teaching and learning has much to learn from traditional pedagogy (or the donut itself), this session will present and explore teaching methods from the design field (the donut holes) that can be applied in more traditional classroom settings.
We encourage participation from design teachers and traditional classroom educators to ignite a conversation about creative learning and student success.
Join Louise Bordelon & ThinqStudio for lunch & great conversation—3rd floor of the Learning Commons
Thursday, April 13, 2023, 12:30-2:00. Register here: ThinqStudio   Contact: ThinqStudio@ucdenver.edu